Major events in Okinawa City
Okinawa City, the "Entertainment City." Throughout the year, Okinawa City holds various events that everyone, young and old, can enjoy. Experience the charm of Okinawa City through events such as the All Island Eisa Festival where soul-stirring dances enliven the summer, the Peaceful Love Rock Festival, the largest rock festival in the prefecture, and the Okinawa International Carnival that includes a bike parade, a must-see for bike lovers, as well as the Otaku Fest.
Various events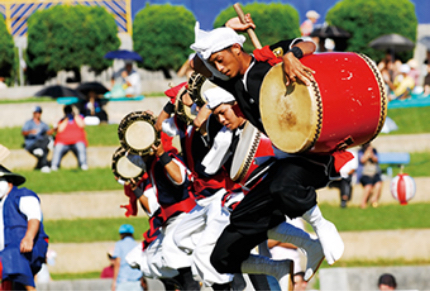 August-Okinawa Zento Eisa Matsuri (All Island Eisa Festival)
The Eisa Festival, held every year on the weekend after the lunar Bon Festival, started as the "All Island Eisa Competition" when Koza City was founded in 1956, and has become a summer tradition that attracts over 300,000 spectators every year. In this three-day festival, selected eisa dance groups from all over Okinawa, including children's eisa dance groups and creative eisa dance groups, captivate the audience with their powerful performances. The finale of the festival, "kachaashii," where participants and spectators come together as one, is also a highlight of the festival.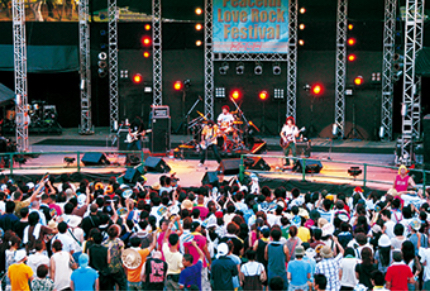 July-Peaceful Love Rock Festival
The "Peaceful Love Rock Festival" started in 1983 as a reunion concert of the rock band "Murasaki" that was active in the 1960s. Since then, the content of the festival has been enriched each time. It has become the largest rock event in the prefecture, bringing together indie bands, veteran musicians, and newcomers, and is now a nationally recognized music event. The event is held on the first Saturday and Sunday of July every year.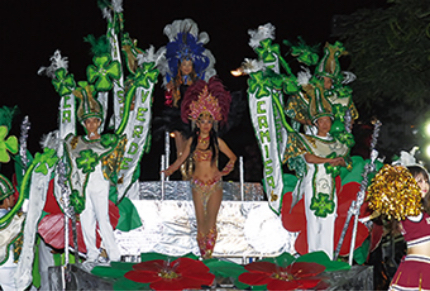 November-Okinawa International Carnival
The "Okinawa International Carnival" is an international event unique to Okinawa City, where people from more than 40 countries live, and is held on Gate 2 Street as the main event venue. There are also a variety of events such as the Koza Emaki Parade, the International Tug-of-War with the participation of foreigners, the Okinawa Samba Carnival, and the Koza Performing Arts Festival. Since 2008, "Gate #2 Festa" has been held at the same time, making the event more exciting with a parade of more than 300 (Harley-Davidson) motorcycles.