Various artifacts have been continuing to be made here.
The land and its people make this city of Okinawa the premier entertainment city in all of Okinawa.
About Koza
Okinawa City is located on the central part of the main island with a population of over 140,000, and is second in population to the City of Naha. It was originally two provinces-Goeku and Misato in the Ryukyu Period. In 1974 two cities - Koza and Misato joined and make up present-day Okinawa City.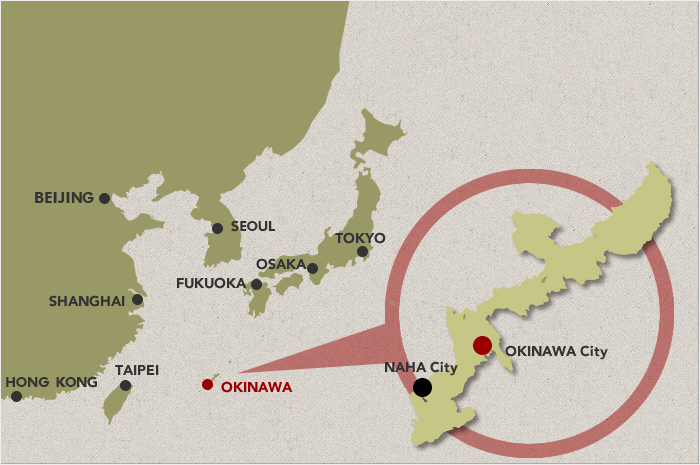 About the Koza Area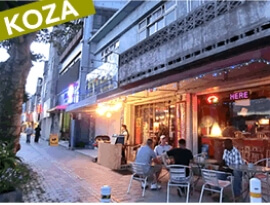 Koza is the name given to the heart of Okinawa City where the Koza Intersection begins and stretches out to the areas of Goya and Nakanomachi. It is said that the American servicemen first started to call the Goya area and Goeku Village "Koza," and from then on, it caught on with other people.
A Town Coming Together with Entertainment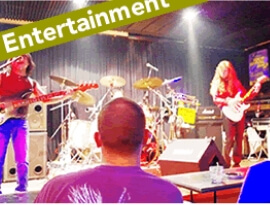 After World War Two the central part of the city which prospered as a town located in front of the main gates to the US Base during the 60's through the 80's was a very lively spot which in turn helped promote Japanese Folk Music, Okinawan Rock Music along with the birth of new performing artists to become famous all over Japan. Every year when the popular All Island Eisa Festival is held, the city becomes a premier city for entertainment.
About "Eisa Town Koza, Okinawa City"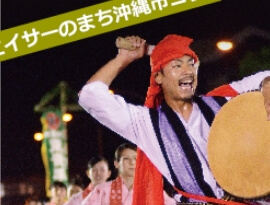 "Eisa" is one of Okinawa's traditional perfroming arts that has origins in Mainland Japan's "Bon Odori" (a dance performed during Obon).June through September is Okinawa's eisa season, and on the night of Obon (based on the lunar calendar), youth associations from each district display their distinct eisa style while parading around the streets (this is called "michijunee" in the local language) . It is said that eisa dance is most popular around the central part of the prefecture, and every year as Obon nears, you can hear the booming of drums from each community center as youth gather to practice their eisa skills.
Here in the City of Eisa, the annual "Zento Eisa Matsuri" (Island-Wide Eisa Festival) is held during the weekend after Obon in Koza, the heart of Okinawa City. It is one of the biggest events on island where eisa dance from each region of the prefecture is displayed.