Eisa Night 2023! Starts on 6/18!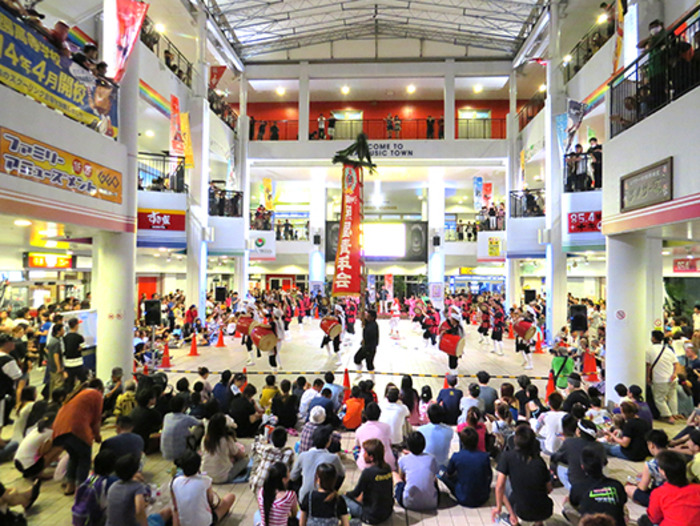 Starting on June 13, the anniversary of Okinawa City's "City of Eisa Declaration," visitors can enjoy eisa performances throughout the city until the Lunar Bon Festival, when Okinawa Zento Eisa Matsuri (All-Island Eisa Festival) is held.
In 2023, starting on Sunday, June 18 at Southeast Botanical Gardens, Koza Music Town Otoichiba, Awase Payao, and four eisa groups will gather each week to set the mood for the main event of the Okinawa All-Island Eisa Festival!
【About the upcoming Eisa Night 2023 at Southeast Botanical Garden】
Please note that the admission fee for Eisa Night used to be free, but this year, from 5:00 p.m. onward, the admission fee will be 500 yen for adults (18 years and older), 300 yen for children (4 to 17 years old), and free for children 3 years old and younger.

*Please note that regular admission fee will be required for admission before 17:00.

For all other venues (Koza Music Town Otoichiba and Awase Payao), viewing will be free.
June 18 (Sun.)
19:00〜20:15
Location: Southeast Botanical Gardens
Performing groups: Okinawa City Higashi Youth Association, Okinawa City Ikehara Youth Association, Okinawa City Matsumoto Youth Association, Okinawa City Goeku Youth Association
Click here for more details.
June 25th (Sun.)
19:00〜20:15
Location: Koza Music Town Otoichiba
Performing groups: Okinawa City Nakanomachi Youth Association, Okinawa City Higashi Youth Association, Okinawa City Kubota Youth Association, Okinawa City Sonda Youth Association
Click here for more details.
July 02 (Sun.)
19:00〜20:15
Location:

Yaeshima Park, Okinawa City

Koza Music Town Otoichiba
Performing groups: Okinawa City Kamara Youth Association, Okinawa City Goeku Youth Association, Okinawa City Yamazato Youth Association, Okinawa City Kubota Youth Association
07月09日(日)
19:00〜20:15
Location: Koza Music Town Otoichiba
Performing groups: Okinawa City Moromisato Youth Association, Okinawa City Goya Youth Association, Okinawa City Minamitobaru Youth Association, Okinawa City Yamazato Youth Association
August 12 (Sat.)
19:30〜20:45
Location: Awase Payao
Performing groups: Okinawa City Minamitobaru Youth Association, Okinawa City Noborikawa Youth Association, Okinawa City Ikehara Youth Association, Okinawa City Moromisato Youth Association

August 13th (Sun.)
19:00〜20:15
Location: Awase Payao
Performing groups: Okinawa City Kamara Youth Association, Okinawa City Matsumoto Youth Association, Okinawa City Goeku Youth Association, Okinawa City Sonda Youth Association

Introduction about Okinawa City Youth Association (you can see videos of all 23 groups)
Videos of past Eisa Night events can be viewed on Eisa Museum's official YouTube page. (Japanese)
Eisa Museum YouTube
別ウィンドウで開きます
---
▼ Contact
Okinawa Zento Eisa Festival Executive Committee Secretariat
TEL:098-937-3986